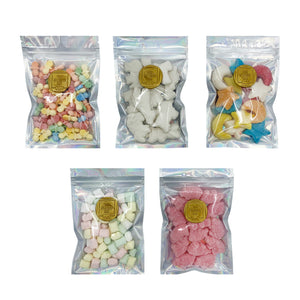 Sweet Little Set
Hello baby combines sweet pastel colors with animal and celestial shapes for a baby shower, naming and first birthday enjoyed by adults and kids! 
Collection includes 5 pouches: Baby Binky, Yogurt zoo friends, Twinkle Twinkle little sours, Pastel Meltmints, Piglette Sours.
May contain traces of milk and nuts.